Publication Date: 21.10.2018 15: 24
Weather forecast for Spain on the Mediterranean coast of the Costa Blanca in Torrevieja, Alicante, Orihuela Costa, Denia, Calpe, Benidorm, Murcia, Cartagena.
The weather in Spain today, tomorrow and the week, the temperature of the air and water in the sea, the probability of rain, the direction and speed of the wind.
Weather in Torrevieja and Orihuela Costa
Many tourists liked the very mild climate of the city of Torrevieja. In the resort, the air temperature on the hottest days of the month does not rise above +27, and in winter it does not fall below +10. Most of the beaches are located in quiet coves. And here is the largest Russian-speaking community in Spain. In total, citizens from 120 countries rest and live in Torrevieja. Perhaps this is the most cosmopolitan city in Spain populated by foreigners.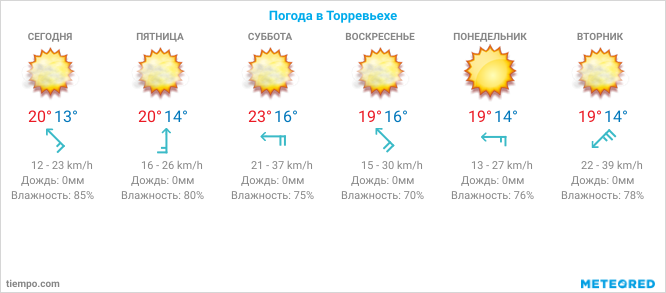 Weather - Tutiempo.net
Blue flags on almost all beaches, white sand, excellent European service, rave reviews from tourists and 320 days a year of gentle sun, this is how you can describe the main tourist center of Spain - Costa Blanca. 200 kilometers of coastline with comfortable hotels and cozy provincial towns.
Although the Costa Blanca resorts are divided into northern and southern parts, there is no difference between them. Everywhere the sea and the sun, charming villages, lots of entertainment, beautiful beaches and comfortable hotels.
Weather in Spain for months
Weather in Alicante
Alicante is the most popular and largest resort in Spain, Costa Blanca. Its historical roots go back to the Carthaginians, and development and formation is associated with the Moors. In 70 of the last century, tourists from Northern Europe and England were thirsty for the sun and the warm sea. Since then, the city has become prettier from day to day and has acquired a wonderful tourist infrastructure with luxury hotels and magnificent promenades.
Weather Benidorm - Costa Blanca
Weather in Calpe
Weather in Dénia
Weather in Murcia
Weather Cartagena Costa Calida